Kitchen remodeling projects require a lot of planning, from choosing new appliances and materials to coordinating construction or installation services. Avoiding common pitfalls can help make the process simpler and more successful. Here are some key mistakes to watch out for when remodeling your kitchen.
Poor Planning
One of the most common kitchen remodeling mistakes is poor planning. Failing to map out a detailed plan or budget before starting a project can lead to costly delays, problems, and other issues down the line. Make sure to properly plan your kitchen remodel by doing your research, setting realistic expectations, and being upfront about any potential limitations in terms of time, cost, and materials.
Taking on a kitchen remodel is an exciting endeavor, but it's important to have realistic expectations for the time it will take and the budget you'll need to allocate. Without proper planning and research, you may be setting yourself up for costly delays due to incorrect measurements or other unexpected complications.
Although there will always be some level of surprise, having a detailed plan and researching any potential issues beforehand can help you avoid major mistakes during your kitchen remodeling project.
Ignoring Efficient Kitchen Layouts
Having an efficient and functional kitchen layout is key to making the most out of your space. Some common mistakes to avoid are overcrowding and underutilizing countertops and cabinetry. Make sure to plan out and optimize your kitchen layout by taking into account how much space you will need, where appliances should go, how you will use the room, and any special needs or accommodations.
When remodeling your kitchen, be sure to pay attention to how you can most effectively use the space. This includes thoughtful consideration of the format, traffic flow, and layout of the kitchen itself. Keep in mind that your kitchen can benefit greatly from efficient design techniques such as keeping appliances and items close at hand.
Preserving some open areas for activities, and incorporating workstations into the room. To make sure you get the most out of your kitchen remodel and avoid potential headaches during future usage, it's important to consider an efficient kitchen layout from the start.
Not Budgeting Properly for Unexpected Expenses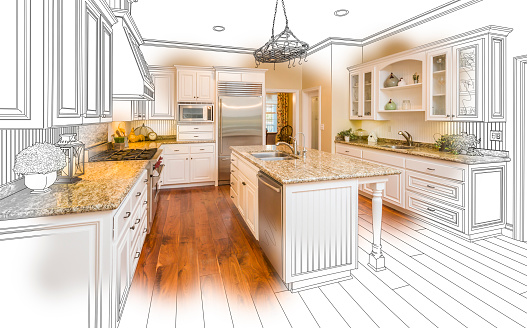 When it comes to remodeling a kitchen, unexpected expenses can add up quickly. Be sure to create a budget that includes unforeseen costs and factor in a contingency fund for additional expenses. Doing research on different materials, products, and labor beforehand can also help you determine the exact cost of your project and plan ahead for any potential issues.
Taking on a kitchen design project without doing your due diligence can have far-reaching consequences. Researching in advance the type of materials, products, and labor that you need for your renovation project is vital to ensure that everything runs smoothly.
Additionally, it's important to set aside a portion of your budget to make room for any unexpected expenses that may arise during the process. This way, if a fixture needs to be replaced or an appliance needs servicing, you won't be caught off guard financially when the job is complete.
Choosing Low-Quality Materials or Skimping on Costly Items
Low-quality materials may come at a lower cost, but they won't last as long and might need to be replaced sooner than expected. Investing in high-quality countertops, appliances, and other items for your remodel is important for the longevity of your kitchen.
If you plan on using low-cost materials, be sure to factor in how much it will cost to replace them down the road and make sure it is worth the lower up-front cost. Skimping on costly items such as cabinets, countertops, and appliances is also a common mistake that can have costly consequences.
Quality materials will last far longer than cheaper alternatives and require fewer repairs over the years. If you are serious about remodeling your kitchen, plan to invest in high-quality materials that will stand the test of time and provide you with value for many years to come.
Not Taking Precautions for Mess and Noise Control
Kitchen renovations can be incredibly disruptive, both in terms of the mess that will be created and also the noise. Before beginning a kitchen remodel, it's important to spend time prepping the area by covering any furniture, removing breakable items, and taping off doorways to prevent dust from traveling into other parts of your home.
It's also wise to invest in ear protection if the project is going to be overly noisy. Often, people wait until renovations begin before taking any protective measures. However, this can lead to a slew of problems such as dust particles spreading throughout the home, furniture being damaged, and noisy tools making it hard to relax in your own home.
To ensure a smooth kitchen remodeling process and minimize disruption to your home, it's important to take appropriate safety measures from the beginning of the project.